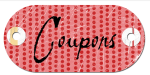 Name: Grandma Bee
This question relates to: Other
Q. I operate a small coupon clipping service and would like to donate my unused coupons to our military families as my "thank you" for all you sacrifice for us. Any information you can provide would be greatly appreciated. I have been told the Commissary and PX overseas will accept them for up to six months past their expiration date. Is this correct? Also, can they be used in the same fashion within the U.S.? Can you please provide me with information on how to donate coupons, even those expired, to our military families? An address and contact would be great. Thanks for your help.
Grandma Bee
A. Hi Grandma Bee! First let me say thank you for writing Army Wife 101 and for your kindness in wanting to help military families.
You have definitely heard correctly. Expired coupons can be used up to 6 months after their expiration date at overseas military installations. The coupons will be used in the same fashion as they would in the US. Military families will use them at their local commissary.
I have found the following places and tips where you can donate and send unused and expired coupons:
The below tips are from :About.com Expired Coupons For Military
– Tips –
* Cut and trim the sides of the coupons. This is not only helpful to the receiving centers, but you do not want to pay postage on dead weight.
* Separate the coupons into two major categories – Food (for humans) and Non-Food (pet food would be non-food). Place them in large sealed freezer bags and label.
* Attach a dollar total of the coupons onto the bag.
* Prior to sending your coupons, you may want to touch base with whom you are sending them to, to make certain that they do not have any other preferences for you to follow.

To send your coupons to a Military Coupon Co-op please visit the following sites:
Overseas Coupon Program
OCP will help you to forward your coupons to Military installations overseas.
Thank you again for you kindness I think I can speak for all military families when I say Thank You!!!
Hooah & Smooches
Comments
comments
Powered by Facebook Comments