Ever arrived at a new duty station , took one look and said how in the hell am I gonna live here for the next 2-3 years?
When we first arrived at Hunter Army Airfield in Savannah GA, I was not impressed by any means. This probably had to do with the fact that we had to inprocess and check in at Fort Stewart in Hinesville, GA which was nothing short of being in the sticks. I mean their was absolutely nothing to do there except what was available onpost, because of this I assumed Savannah, GA was going to be the same way.
For my first few months of living in Savannah I hated it and I really didn't know why. I assumed it could have been the fact that before we came to Savannah we were in Fayetteville NC aka Fort Bragg which was much more military friendly and relied heavily on the military financially so in a since it was a different atmosphere. In Savannah while the military gets great respect they don't make or break the city money wise.
In any event as much as me and my hubby love to explore culture ,history and take road trips, we constantly sat around at home because would you believe me the internet queen didn't bother to research her surrounding area and we never ventured out.
It wasn't until right before my husband deployed that we ventured out and OMG would you believe what we found, we lived in one of the most visited, toured and historical cities in the country. Paula Deen lived here and you know if she lives here it has to be good *hehe*. Right then and their I knew we had wasted so much time that we would never get a chance to explore all their was to see here before he had to deploy and before we PCS'ed to our next duty station. While he was gone my BFF and also neighbor ventured out downtown to just take pictures , we would watch Paula Deen shows and then head to all her great recommendations. We ran down the Oak lined Road where Forrest Gump ran hence the famous "run Forrest run" line.

I saw the Forrest Gump bench that was before they moved it.
I visited the house where "Midnight in The Garden of Good and Evil" was filmed.


Lest not forget the great food opportunities I had visiting a bakery called "Back In the Day Bakery" Paula Deen visited on her show (can you tell I'm a foodie?) and enjoying the best cupcakes in the world.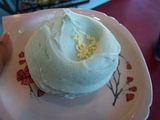 Lastly I had the great privilege of being only a hop, skip and jump away from Florida and Charleston SC, making several Disney trips (Shades of Green for Military only & Tax free on the grounds of Disney)
possible , even graciously visited Seaworld thanks to Amheuser Busch's Free Promotion for Soldiers and their families
as well as getting a chance to drive onto the set of one of my favorite shows Army Wives.

Did I mention I got to visit the house where Queen with Halle Berry and one of my favorite movies of all time "The Notebook" was filmed along with the North & South series starring the late great Patrick Swayze .

By the time we got orders to Hawaii we truly were shaking our heads in pisstivity (not a real word, but it describes what I feel lol)that we did not venture out soon and probably would not get a chance to live here again.
This is us on our last visit down to River St.

We were so sad we would never get to see or eat these things anymore…Take a look below…

Ok so I know your saying is their a moral to this lonnnnng story of course (I think cause sometimes I just ramble lol):
When you arrive at your next duty station take the time to recognize the positive in it no matter where you are. It is understandable that you are far away from family and you will miss them but hey if your in Europe head on down to the travel office and see what bus trips are offered to Paris. If your in the middle of nowhere Fort Irwin CA make plans to take a four hour roadtrip trip to Hollywood on a weekend. Sounds crazy but with the right planning it can be done.
I openly admit that I hate being here in Hawaii but at the end of the day I know people pay thousands to come and visit a place that I get to live for almost nothing and at given time my kids are exposed to what some people consider paradise. Every place has a famous historical site or landmark , so take the time to visit it and expose your kids to things that other families only wish they could have the opportunity to do. Here are my kids visiting Pearl Harbor
If their's nothing in your area or state head on to a state you would never think to visit that's close on one of your spouse's four day weekends.
Just enjoy whatever is thrown your way!
Hooah & Smooches
Comments
comments
Powered by Facebook Comments