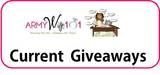 Yesterday on the AW101 FB page I asked some of you guys who hadn't entered giveaways before …why?  The majority of the answers were that they didn't know how to enter. I took it upon myself to make a video that I hope will  make an already easy process for you easier.
One thing I forgot to mention in the video was that none of my giveaways will ever make having a Twitter or Facebook account a MANDATORY method of entering. I do sometimes put bonus ways you can enter if you use FB or Twitter but it's never a requirement.
Leave your questions or comments below and I hope this helps!
httpv://youtu.be/bPhLFQsMEfo
Comments
comments
Powered by Facebook Comments