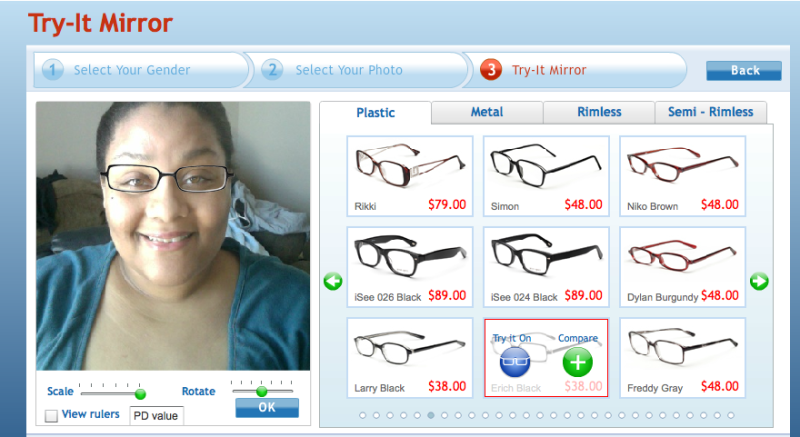 I have worn glasses since the second grade and since then have been through multiple pairs.  I grew up with full vision insurance coverage and we definitely needed it since three out of four family members wore glasses. Once I married into the military life I quickly learned that we were covered for a yearly eye examination but glasses were not. I then had to become ten times more careful with my glasses since I was the queen of sleeping with them on , losing them and much more. Having glasses that were MIA all the time was no longer an option.
I know for a fact many of my readers have this same concern and the minute GlassesUSA.com reached out to me I jumped to share about their affordability and military discount they offer. Their glasses start as low as $38.00 and they have all different brands from Coach to Basic. Even the well known brand names are affordable which totally shocked me. I am thinking a Coach pair of glasses maybe in my future but I digress! Currently they are even offering free shipping in the US.
They offer Women's and Men's eyeglasses and I really like that the prices include the cost of the lenses. In addition because it is an online website I know many are thinking "how will I know how they look on me" ? GlassesUSA offers a virtual mirror where you can simply upload a shot of yourself and try on virtually any pair of eyeglasses you want.
Every type of glasses from Aviator to Multifocal glasses can also be found here.
In Their Words
 "We offer a 110% lowest price guarantee and a 100% satisfaction guarantee along with a generous refer-a-friend program. Additionally, you can stay up-to-date on all GlassesUSA happenings through our Facebook Page and our Twitter feed.
Discounts
SPECIAL – Limited Time – OFFERs!
Take 50% off on the frame price for any order over $80. Code: Special50
Take 10% off any order of prescription glasses. Code: Blog10
MILITARY Discount!!!
Take 20% off any order of prescription glasses. Code: MilitaryFamily
If you're looking for a pair of cheap glasses make your way over there!
This is a sponsored post for GlassesUSA.com . All thoughts and opinions are my own.
Comments
comments
Powered by Facebook Comments