I would have loved to do a Freebie Friday but I think I will save that day for Fact Fridays.
Anyhow I wanted to share some military related freebies as well as regular freebies that you might or might not be aware of:
The first one I'm sure alot of us are aware of but I'll post anyway.
1. Flat Rate/Priority boxes are the cheapest and most effective way to ship care packages and other goodies to your soldier overseas.
Not only can you go to the Post Office and get the boxes you can order them from the site and have several at a time sent to your house FREE OF CHARGE.
Visit USPS to order some.
Their was an option to call a # but the number I have is disconnected so if anyone has the new one feel free to post it in comments.
2. Is your soldier coming home soon or you just want to be prepared for homecoming since that's (IMO) the best part of deployment .
BuildASign is giving away Custom FREE Banners
Want one visit Here
Here's a pic of mine that I got for hubby last year.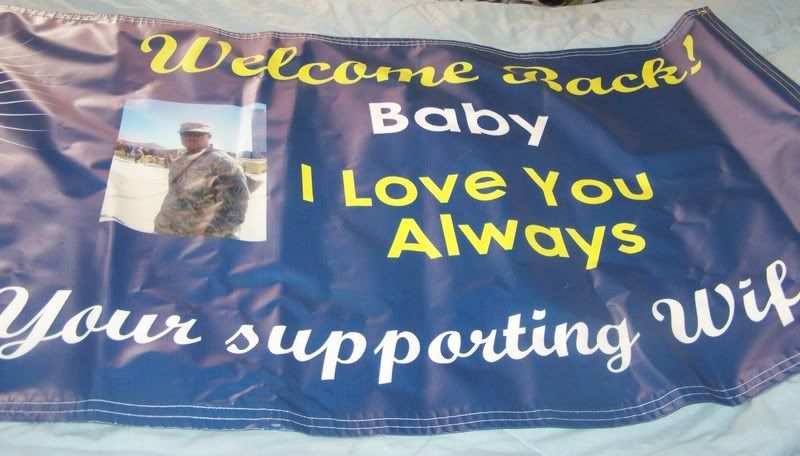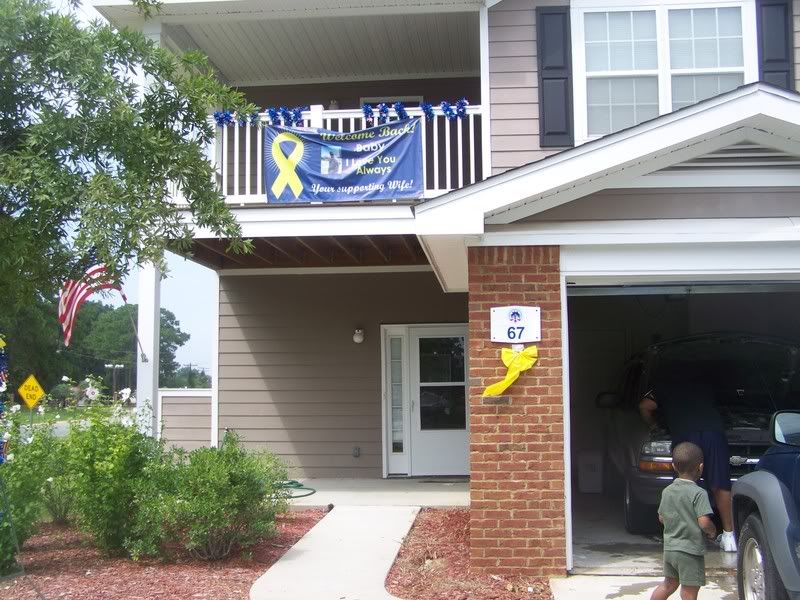 3. Don't forget The Hero Salute By Anheuser Busch is currently running until the end of 2009.
Just by going to Hero Salute Your service member and up to 3 direct dependants can go to any one of the 5 listed parks for FREE!
Seaworld, Busch Gardens, Adventure Island, Sesame Place & Water Country USA.
4. Visit to see how to get 1 Free 5 day Armed Force Salute Ticket W/ WaterPark and ParkHopper Options.
Spouses and Dependents (wording courtesy of Disneyworld.com/military) may purchase up to a maximum of five 5-Day "Disney's Armed Forces Salute Companion" tickets (one theme park per day) for $99 per ticket, plus tax, for family members (including spouse) or friends. Although this ticket for family members and friends does not include either the Park Hopper® or Water Park Fun & More options, this ticket can be upgraded to add either such option, or both, for an additional $25, plus tax, per option. Actual prices may be less. All tickets and options are non-transferable and must be used by December 23, 2009. Also up to 40% off at Disney hotels are available via the website.
5. This last offer is nothing major but hey it's FREE FOOD so why not share right?
Everyone may not have a JACK IN THE BOX in there area but for those that do get your 2 free tacos on August 4, 2009. Just go here to print out your free coupon Free Jack In The Box Coupon
Hooah & Smooches
Mocha Army Wifey
Comments
comments
Powered by Facebook Comments